'Karinto'
You will love it!

'Yushoku - karinto to ocha.'
"Suppertime - karinto and tea."
Ashinano, Hitoshi. 2002. Yokohama Kaidashi Kikou. Chapter 88. Vol. 9, Page 164, Panel 1.
A 'karinto' is a cookie made from deep fried dough. It is sweet and crunchy.
Photos
Traditional dark-brown sugar karinto cookies are popular among people of all ages.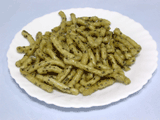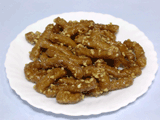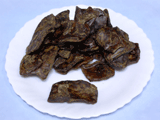 Karinto comes in several flavors. From left to right, white-sugar karinto, sesame karinto, peanut karinto, and another traditional kind of karinto.
They are good, but not much of a 'yushoku', supper.
Conclusion
Kamas didn't hunt. Ayase and Kamas have been in a bad mood except for the time when they were with Makki. They both must have found something in Makki.

Links
Japanese Snack, Karinto by Yumie Shiotsuki

A recipe of karinto.

Karinto: and its lovely pitted appearance by Kyuboshi, a karinto manufacturer

You can learn more about karinto. Karinto is also spelled karintou.
If You Like YKK
Buy the books. Support the author.
Some online stores sell YKK books.
---
YKK - Behind the Panels > Karinto
2004-11-18 KIMOTO Go